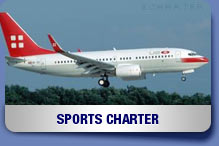 Sports Air Charter Benefits

Expert ability to handle the demanding schedules of Sports Team and their fans.

Teams and Fans board aircraft directly from ground transportation for convenience and security wherever available

24/7/365 operational support including flight tracking and on-site representation to brief airport staff and cabin crew.

For more information, email us or call 1(800) 284-0068
Sports Air Charter

What sets AirCharter above the rest when it comes to sports charter? It's providing you with the winning ticket. Whether you are transporting your sports team or all their devoted fans, AirCharter always has its eye on the ball.
A worldwide network of approved aircraft, including the largest dedicated sports fleet available in the U.S., to provide you with the widest variety of models and seating configurations, ranging from 19 seat turbo props to comfortable wide-body 747s.
Aircraft availability to meet the demanding flight schedules of sports teams and their fans.