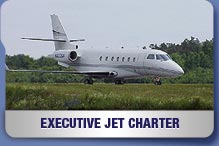 | | | |
| --- | --- | --- |
| | Executive Jet Charter for Corporate Travel Management | |
| | | |
| | Large corporate travel departments and company flight operations that regularly depend on private jet charter don't necessarily have the resources to evaluate every charter operator, negotiate rates and obtain the high level of service and reliability required in today's demanding business environment. AirCharter.com changes all that with the Air Charter Management Program that adds consistency and efficiency to your air charter purchasing. | |
| | | |
| | For more information, email us or call 1(800) 284-0068 | |
| | | |
Executive Jet Charter

We have a large variety of Executive Jet Charters. Our network of approved Executive Jet Charters allows us to provide our customers with a wide variety of aircrafts.

Air Travel, PerfectedTM -
Private Air Charter offers you a travel experience that is impossible to duplicate with commercial airlines. Your AirCharter.com travel experience provides many benefits such as:
Privacy -

With our Business Jet Charter you & your guests have the entire aircraft to yourselves. You travel exclusively with passengers you know, and enjoy the personal privacy that allows you to discuss business or simply relax. Our larger jets offer a fine dining experience comparable to a five star restaurant. This is truly the kind of Perfection that commercial airlines wouldn't even consider.

Comfort -

We provide the kind of personal attention you would expect from a luxury concierge. Our amenities include roomy leather seats, complimentary in-flight movies, wet bar and gourmet meals of your choice. There is no lengthy check-in process. You pull right up to the aircraft and your luggage is loaded directly from your car into the plane. Ahh, Perfection!

Point to Point Travel

- We fly when you want to fly, not based on our own schedule. With access to 10 times more airports than commercial

airlines, you can fly in and out of the smaller, less-congested airports that are close to where you are and where you're going to.

Want to add a stop while en-route or you're running behind schedule, our crew will do everything possible to accommodate your ever changing travel plans. That's what we mean when we say Air Travel, Perfected

TM

.

Never Miss Dinner Again -

When you utilize a private jet charter from AirCharter.com, you can have a morning meeting in Los Angeles, an afternoon meeting in Denver & return home to San Francisco just in time for dinner.

AirCharter.com opens up a world of opportunity by giving you flexibility to plan your travel around your schedule. The Perfect way to travel.